Top 10 keyloggers
Hot news:
August 08, 2020
TikTok Use Rises Privacy Concerns Globally
Read more...
Review of
Total Spy
WARNING! This keylogger is no longer available.
Please click here to move to the comparison table and choose a top keylogger that will suit your needs.
Developer:
IwantSoft, Inc.

GOOD:
Very simple, cheap and easy-to-use keylogger.
BAD:
Only basic functionality. Available in English only.
SUMMARY:
The keylogger with basic set of features and cheap price. Very easy-to-use. Can be a good choise if you are looking for an affordable keylogger to monitor your home PC.
INSTALLATION & INTERFACE
Once we download the installation file of Total Spy and double click it, UAC asks us if we would like to allow this program to make changes to our PC. We choose "Yes" and Setup launches.
In order to install Total Spy Remote keylogger we pass through the following set of windows with self-explanatory names: Welcome → EULA → Information (where we are recommended to uninstall other keyloggers if any are present on a PC and to turn all the security software off) → Select Destination Location → Select Start Menu Folder → Ready to Install → Finish (this one has "Launch Total Spy" checkbox).
Once we click "Finish" a message with the following text appears: "You can run Unregistered Version up to 12 times. Register program to remove limitations! Now right-click on the tray icon and select "Settings"." We click "Ok", double-click the icon of Total Spy keylogger and see another message: "Note: the settings are valid for current user account only. If you want to use the program under other Windows accounts, you must launch and configure it under each user account separately." We click "Ok" and finally see the interface of Total Spy keylogger.
IwantSoft, Inc., developers of Total Spy claim that main idea of Total Spy keylogger is simplicity. The interface of their flagship product fully matches this idea. It is logically divided into two sections. The left one is for accessing the information logged, the right one is for configuring the keylogger. The left section consists of a calendar, a column with buttons to view one of five types of events logged and a dropdown menu to perform actions with log-files. The right part, as it was mentioned above, contains keylogger's settings, grouped into 4 categories, namely: "Setartup Settings", "Invisibility Settings", "Monitor Tasks", "Remote Reporting". Three buttons allowing the user to close the keylogger, register it or to "Apply & Spy" are located below the "Settings". Everything seems to be clear and it really looks like the interface contains only those elements, that are vital for proper keylogger's use.

Interface
Another interesting thing, is that Total Spy keylogger doesn't have a log viewer. It just uses built-in Windows applications (e.g. Notepad, Windows Photo Viewer, etc. to view the intercepted information). Again, simple, just like developers claimed!
OS SUPPORT
According to the website of Total Spy Remote keylogger it supports Windows 7, Vista, 2000 and XP. During our tests the keylogger perfectly worked on Windows 8, yet we cannot give it points for the operating system that is not supported oficially. So, 65 points out of 97.
SECURITY
Unfortunately, security is definetely not the strongest point of Total Spy.
There are only two pluses features in this section, Total Spy gets points for. First, the keylogger hides its folder the way it can't be found easily by the user of a PC under monitoring. Second, Total Spy can be accessed by pressing a hotkey.
However, the rest of the features of "Security" section are absent in Total Spy. In detail, this keylogger can't be protected by password, accessed by typing a keyword, can't be configured to remove itself on a pre-specified date and doesn't show a warning message. Its processes are not hidden in Task Manager, so as its Startup entries. Additionally, it can't be pre-configured before the installation, so as use the SSL-protected servers to send log-files by emails.
Summing up, 25 out of 125 points in this section.
MONITORING
Total Spy keylogger perfectly logs all keys pressed, including typewriter and system ones. It also logs the clipboard content and started applications. Additionally, it can make screenshots and allows its user to adjust the period of their making.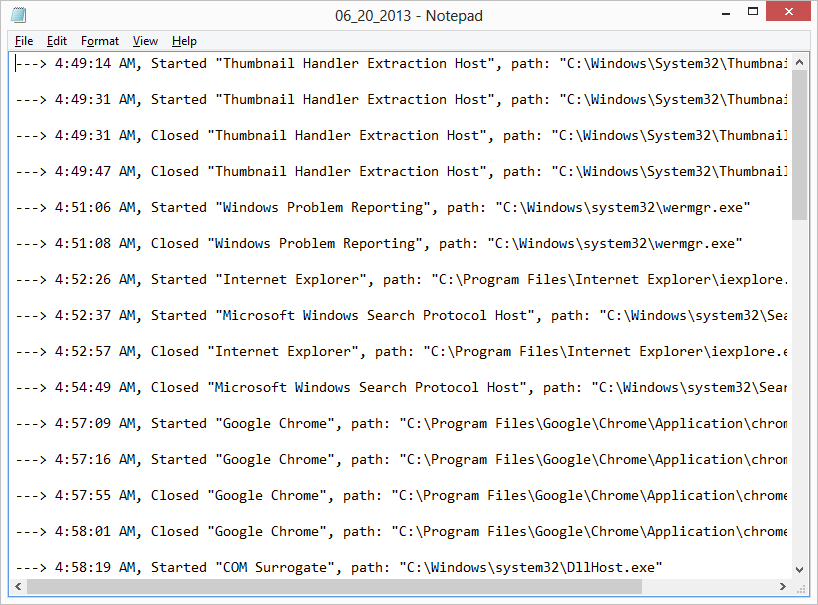 Started Applications
Unfortunately, Total Spy detects none of file-activity operations, documents printed, system log on/off and inactivity time, which makes it a bad choise if you need a solution for employee monitoring. Just as many other keyloggers on the market, it doesn't record sounds and mouse clicks made. Additionally, the user of Total Spy doesn't have an option to set the quality of screenshots made by the keylogger, to make the screenshots every time a mouse button is clicked and to choose between the screenshots of an entire desktop or active window only.
84 out of 300 points in this section.
ONLINE MONITORING
Good news! Total Spy keylogger is almost perfect at logging visited websites! According to our tests, this keylogger logs all the URLs visited in all the browsers taking part in our testing, except Safari. Taking into account the low popularity of this browser on Windows this shouldn't be a big loss for the users of Total Spy.

Visited Websites
Bad news — Total Spy doesn't log both sides of chat conversations made in all the messengers of our testing. It also doesn't log neither received, nor sent emails, so as can't be configured to make screenshots of visited websites only.
All this results in 69 out of 176 points in "Online Monitoring" section.
REPORTS
Starting from version 3.0 Total Spy is available in Standard and Remote Editions. The difference is in ability of Total Spy Remote to send the log-files by email. This feature costs the user additional $20 ($29.95 for Standard Edition in comparison to $49.95 for the Remote one). The rest of the text in this section applies to both editions of the keylogger.
So, among the implemented features in "Reports" section, is an option of search by keywords.
Unfortunately, the keylogger can't be configured to monitor pre-specified users or applications and doesn't show events' duration (only their start time). Total Spy doesn't allow choosing custom period of dates to show the logs for. So as it can't be configured neither to limit the size of its log-files, nor to clear them automatically. Additionally, it can't deliver them remotely by any of the means listed in our testing (except the above mentioned Remote Edition).
32 out of 150 points.
OTHER
Well... There is not much we can say about Total Spy in this section. Unfortunately, none of the features of "Other" section are implemented in Total Spy. It can't react to pre-specifed keywords, can't work on schedule and is available in English only. It can't block programs and websites from opening, that decreases its usefulness as a parental control tool.
0 out of 66 points in this section.
THE BOTTOM LINE
Summing up we would like to say that Total Spy is, first of all, a keylogger for those who values simplicity. It has all the basic set of features that a keylogger should have and a very simple interface. All this, plus very low price, makes it a good and easy-to-use tool for monitoring of your home PC.
POINTS TOTAL: 255 out of 1001
WARNING! This keylogger is no longer available.
Please click here to move to the comparison table and choose a top keylogger that will suit your needs.
IMPORTANT! Installing computer monitoring tools on computers you do not own or do not have permission to monitor may violate local, state or federal law.